| Rank | Name & City |
| --- | --- |
| Junior Master (5) | Spike Abernethy, Granger; Sandra Bardeson, Valparaiso; Kent Dennis, South Bend; Robert Gormley, Fort Wayne; Robert Johnson, Angola; Rosanne Johnson, Angola; Sandi Malott, Fort Wayne; Cameron Orr, Hartford City |
| Club Master (20) | Ann Marie Kelly, Fort Wayne; Gloria Kohrman, Fort Wayne; Carole Partlow, Notre Dame; Dean Teagno, Fort Wayne |
| Sectional Master (50) | Dimi Cooklev, Fort Wayne; Niroo Gandhi, Fort Wayne |
| Regional Master (100) | Jackie Kohrman, Huntertown; Nancy Love, Fort Wayne |
| NABC Master (200) | |
| ADV. NABC Master (300) | |
LIFE MASTER (500)
Allen Pinkham, Fort Wayne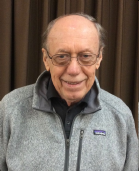 EMERALD LIFE MASTER (7500)
George Kovarik, Osceola
What an accomplishment!  George earned the title of Emerald Life Master (7500 master-points) last month.  He and his wife, Pat, started playing in our club during this past summer  after their move to the Osceola area near their daughter.   In the short time they have been here, our members have helped (too often) put the final touches on his Emerald Life Mastership goal.  He shared some of his past history with us.
In the fall of 1963, (the same year he met Pat), a young George stopped at a table to kibbitz a hand or two of "500" (for cash) at the Neuman Center at Mankato State College. After kibbitizing the game for a few months, the other people noticed George's interest and invited him to play and eventually formed future successful partnerships for duplicate bridge.
George attended numerous great bridge tournaments from Mankato to Duluth, MN where he and Pat lived for 30 years (Mankato), 24 years (Duluth) and Henderson NV before coming to Osceola.  He developed many memorable partnerships and played with or against several world class players in these events.
George sends his "Thank you for welcoming us to Indiana."  We send our "Glad to have you!"