Carl Minick, Huntertown & Judy Nelsen, Fort Wayne: 70.71% 4/8/21
Howard Chapman & Judy Nelsen, Fort Wayne: 70.04% 4/28/21
Candy Hurwich, South Bend & Kathy Stegmaier, Mishawaka: 70.24% 5/3
Kris Purcell & Maryellen Rice, Fort Wayne: 70.42% 5/5
Bill Searcy, Elkhart, IN & Richard Mao, Mishawaka: 71.88% 6/10
Candy Hurwich South, Bend & Kathy Stegmaier, Mishawaka: 70% 6/28
Joe Shull, New Haven & Matt Fultz, Fort Wayne: 71.13% 8/25
Recognizing a Club Reporter....A tribute to BARBARA WALCZAK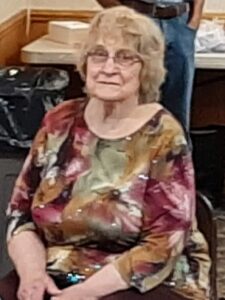 Barbara Walczak was recently feted by bridge members in Northwest Indiana for her 14-year commitment of publishing club news. Starting in 2006 the newsletters basically covered Lake and Porter counties and also featured other players who were regulars in those five clubs. It began as a weekly newsletter, but became a twice-weekly edition because there were so many highlights with positive messages to share with our bridge family.
A celebratory party was held on June 28. Thanks, especially to Anna Urick for spearheading this event along with Charlie Abernethy, Trudi McKamey and Mary Kocevar. Part of the gift was presented a year ago — an extraordinarily spectacular gift basket of delicacies from around the world. Their expiration dates were coming up, so this exquisite medley of European (and Andean) culinary treats superseded the main event by 10 months.
There was an atmosphere of welcome and merriment at the June 28th party that celebrated the newspaper reporter who had shared with the bridge community the joys and accomplishments of its members — their advancement upward that along the bridge hierarchy, as well as its social components. Some of the gifts that were presented were — a bouquet of baby's breath and red carnations, a large vinyl G.O.A.T. banner, 14 $10 bills, 15 certificates for entry fees to games at 3 duplicate clubs, a $40 gift certificate to Calumet Bakery and 70 6-inch chocolate chip cookies
Fort Wayne Raises $19,000 for Longest Day

FWDBC's June 23 "Longest Day" event has raised $19,163 for the Alzheimer's Association with bridge games, a silent auction, raffle, and generous donations from more than 60 bridge players, foundations and businesses. The funds will help support research and free services in Indiana for those with Alzheimer's or other dementias and their caregivers.
The amount raised places the Fort Wayne club sixth among 138 participating clubs nationally. Pictured: Planning Committee members (L to R) Judy Nelsen, , Barb Gasser, Bob Enyeart, Bob Gasser, and Kris Purcell.
FRIENDS THAT WILL BE MISSED
STEVE BALL (71), Fort Wayne, passed away on June 29. Steve and Pat Oetting were a regular pair for many years until Pat retired and moved to Florida. With a variety of different partners, Steve
continued to play at the Club, although less frequently. His last visit to the Club was the day before the pandemic shuttered duplicate bridge in Fort Wayne for 14 months. He played on the winning Swiss team that day.
Steve was a man of simple tastes. His attire was usually a soft shirt, shorts or casual pants, and a baseball cap. His conversations were with a soft voice and a friendly manner. He rode his bicycle daily around Fort Wayne regardless of the weather or the temperature. His convention card had enough blank space that one could have made extensive notes on War and Peace. He operated his retirement business, the Java Bean, on a daily basis where friends and others could stop in and have a casual cup of coffee and enjoy the easy conversations.
Steve enjoyed the simple pleasures of life: family, friends, and fishing. That family and those friends (but not the fish) will simply miss Steve—a lot.
WILMA BALL , Angola
1/3/39 - 6/23/21


Friends of Wilma Ball throughout North America lost a very kind lady in June.
A tribute by Ken Bisson, Club Manager in Angola
Those of us at the 101 Lakes bridge Club remember Wilma as a fine player who looked out for others.  Wilma would gladly partner with someone in need of a partner. Wilma was one to arrange to celebrate a special birthday for one of our members.  I became a good friend of Wilma's when she joined one of my bridge classes.  Wilma then asked if she could take me with her to Florida to continue lessons for her bridge friends at "Mapleleaf" her Florida community!
Wilma was such an eager learner that I contemplated how to assist her Mapleleaf friends.  At my urging, Wilma and four other local students agreed to "test drive" a method of self-directed lessons.  If it worked here, Wilma could bring those lessons with her to Florida.  For eight weeks, each week, the motivated students rotated being the instructor for a chapter of the ACBL series of lessons.  I had found that the ACBL teachers manuals were so well written that they practically could "teach themselves".  Wilma and her colleagues proved that this method worked and she
created additional successes in Florida using it.
I tried to visit Wilma and her Florida bridge friends every winter for an "in person" lesson and Wilma always hosted a fun day and evening for the group.  This camaraderie sparked a weekly on-line lesson for me and this group that has continued for over 5 years, keeping us all connected.  I imagine Wilma was able to organize and accomplish just as well in most all of her endeavors.  I am grateful to Wilma for so many things, but mostly for her warmth and sincerity.  Wilma will be in our hearts forever with great memories of love and laughter. Rest in Peace Wilma
RAMESH GANDI, Fort Wayne
1/13/39—4/28/21


Ramesh, Gandi passed away on April 28. Ramesh was an old school gentleman who frequently bemoaned the inequities of bridge. Since his king was usually in the spot the opponents needed, Ramesh believed it only fair that the queen would be in the location he needed. Alas, it usually was not!
Ramesh was a gallant man of impeccable integrity. When he and his partner did well, he usually gave the credit to his partner. When the partnership was not 'scratching', Ramesh usually cast the blame on himself. He often had a smile on his face and always a friendly word to his opponents of the moment.
Ramesh holds a record at the Fort Wayne Club that all the players hope is never broken: the most minutes to walk from the coffee urn to the playing table where his partner and the opponents eagerly awaited his presence. Ramesh, we will miss your sly smile and your friendly demeanor. Coffee will be served at the table where you now play.
DAVID BARKMEIER, Plymouth
10/12/48—6/16/21


It was with deep sadness and shock that we learned of the sudden passing of Dave Barkmeier, age 72, this past month.  He was the only child of Ray and Helen Harris Barkmeier of Plymouth, Indiana. He was an avid reader of  history and all things Shakespeare. His interests were varied and eclectic and included golf, politics, duplicate bridge, jazz and classical music. Dave was also a lifelong Yankee fan and enjoyed the  preparation and eating of fine food and wine. He considered his dogs, Pub and Yogi a part of his family.
After graduating with the Plymouth High School class of 1967,  he received a B.A. in psychology from Indiana University South Bend, an M.A.  in psychology at Western Michigan University and completed his PhD  at the University of Florida in 1978. He began his teaching career in 1979 at Northeastern University in Boston and remained there for over 25 years.  Dr. Barkmeier's academic achievements were numerous.
Dave retired to Plymouth where he sought out the nearest bridge club offering duplicate  bridge lessons.  He found the South Bend Bridge Club, 33 miles away, but thought learning a new mental stimulation was worth the trip.  He spent every Monday morning  in the J & J classes with Jo Ann Steigmeyer and Joan Tobler where he asked questions that sometimes even stumped the
teachers.   Both Joan and Jo Ann said his inquiries made them better players and better teachers. 
The bridge community will greatly miss Dave.  He was a gentleman and a very special guy!
JUNE GLAZER, South Bend
6/29/33—5/18/21


Another beloved member has left our midst.  We are saddened to announce that June Glazer passed away in May at the age of 88.  She was born and raised in Marion, Indiana, and attended Indiana University where she met her future husband, Eli Glazer.  She and Eli were married in 1953 and were blessed with two daughters, four grandchildren and five great-grandchildren.
June and Eli both loved to be with each other and  traveled often to Europe, their favorite destination.  In the winters they spent time in Clearwater, Florida where June played duplicate at the local bridge club.
June started playing duplicate at the Elkhart Bridge Club over thirty-five years ago and received her Life Master award in 1991.  She topped off her bridge career with a Silver Life Master ranking.  The Club always looked forward to her birthday when she would bring in her wonderful array of homemade cookies and her famous salmon spread.  Not only did she bring wonderful food, but she brought a lovely smile each time that she walked through the door of the club.
June often remarked that she enjoyed playing at the SBBC Club and looked forward to seeing her good friends and great partners.  We felt the same about her and will miss her greatly. Our condolences to her family.
CLARKE DIPPELL, South Bend
1/25/40—7/9/21


It is with great sadness that we announce to our members that Clarke Dippell, 81, passed away on July 9th.   Clarke was born on January in Huntington, Indiana to the late Randle and Cheri Dippell.  He  graduated from Huntington High School in 1957 where he played football and baseball.  He attended Moorehead State University and graduated from Indiana State Teachers' College in 1963 with a Bachelor Degree in Education. After college, he became a Lieutenant in the United States Air Force via selective service.  While he was stationed in Omaha, Nebraska, he met his wife, Janet Skupa and they were married on May 7, 1966.  In 1967, they moved to South Bend to start a family and a career in education.
He secured a teaching position with South Bend School Corporation and after a few years, he decided to further his education, receiving Master's Degree from Indiana State University in 1972.  He taught Social Studies at several high schools and was Head Football Coach of Riley High School from 1977-1988.  He retired from South Bend Schools in 2006.
Along with his wife, Janet, Clarke is survived by his three children, Randy (Diane), Cathy, and Andy (Maggie) and five grandchildren; Brianna, Dean, Ava, Tyler,  and Clarke.
Among his many qualities, Clarke described himself as an aspirational golfer, Master of Dad Jokes, subtle insults and wry humor, unfortunate St. Louis Cardinals fan, MAC football fan voracious reader, car aficionado (although he would drive with both feet, even with an automatic), footwear fanatic, average bridge player, distruster of redheads and lefties (although a lefty himself), identified as a "Rogue" in his Senior High School Yearbook, history buff, all-around charmer and affable friend. Mentor. Educator. Husband. Father. Grandfather.  Beloved by his students, peers, athletes, and most of all, his family. We will miss him!
HELEN MILLER, Griffith


Helen F. Miller of Griffith passed away on Saturday June 26, 2021.
Helen was a member of St. Mary's Catholic Church for over 60 years and was a Life Master with the American Contract Bridge League. Helen graduated from St. Mark's Catholic School, Lew Wallace High School, and St. Mary's Hospital School of Nursing.
Helen worked for various doctors and hospitals after her children went to school. She enjoyed reading, sewing, boating, Wheel of Fortune aficionado and entertaining her children and grandchildren at her Diamond Lake Home.
Helen's greatest enjoyment was being a wife, mom, and grandma to her family. She will be greatly missed by all those who knew and loved her.
TEEN ROBERTSON, Mishawaka
August 30, 1932 - July 10, 2021


Mishawaka, IN - Teen Donald Robertson, 88, passed away at home on July 10, 2021.  Teen was born in Dallas, SD to the late Paul and Pearl (Feninga) Robertson.  He was preceded in death by his twin brother, Doyle Robertson and a sister, Belva (Robertson) Hoffman.  On June 28, 1953, in Gregory, SD, he married the former Joan Patterson who also preceded him in death in 2019.  Surviving are his son, Scott, daughters, Diane, Echo, and Susanna; 4 grandchildren,  and 7 great-grandchildren.
Teen graduated from University of South Dakota in 1958 with a degree in engineering. He proudly served his country, first in the United States Army and then as a fighter pilot in the United States Air Force. Teen retired from Bendix/Honeywell after a long career as a test engineer.
Players at the Bridge Center noticed that Teen never sorted his cards into suits.  His theory was that he had to search for the card to be played allowing him time to THINK before playing.  It must have worked!  He closed his bridge career as a Gold Life Master..
Our condolences to his family.
RICHARD SCHEIBELHUT, South Bend
5/31/33—5/7/21


Richard "Dick" Scheibelhut, passed away Friday, May 7, 2021, at the age of 87 with his children at his side. He was born on October 31, 1933 in South Bend, IN to the late Leo C. and Dorothy (DeBelius) Scheibelhut.
In May 1961, in Chicago, Illinois, Dick married Jean Louise Kreuzer, who preceded him in death on September 1, 2019 after 58 years of marriage.
Dick graduated from Notre Dame in 1955. A Navy ROTC graduate, he promptly began his Navy service becoming a Chief Engineer and Landing Officer on a Fast Attack Transport in the Mediterranean.  Dick went on to test the waters at several different career paths until he discovered his love for accounting. He rose through the ranks at KPMG and ended his 29-year career there as Director of Accounting and Finance.
Throughout his life he was an avid fisherman.  His other love was Bridge particularly with his wife, Jean.  He was an accomplished player who became a Life Master at a tournement in Fargo, North Dakota playing with his brother, John.  He continued to rise in the ranks to become a Bronze, Silver and finally a Ruby Life Master in 2016.
The members of the South Bend Bridge Club have beautiful memories of Dick who was truly a gentle man and a gentleman.  Our condolences to his family.
South Bend Monthly Newsletter
Northwest Indiana Newsletter
Michigan City/Long Beach Newsletter