Bill Searcy & Lena Howard, Elkhart: 70.83% 9/1
Candy Hurwich & Roger Chrastil, South Bend: 85% 9/8
Bill Searcy, Elkhart & Gini Stipp, South Bend: 71.73% 9/13
Darrell Culley, Auburn & Chester Pinkham, Angola: 73.21% 9/21
Bud Hinckley, Stevensville, MI & Richard Mao, Mishawaka: 73.26% 9/27
Bill Wendt, LaPorte & Tom O'Connell, Long Beach: 70% 9/28
Sara Marcus, Granger & Marian David, South Bend: 70.83% 10/25
John Mowry & Chester Pinkham, Angola: 70.14 11/16
Karyl Amstutz & John Mowry, Angola: 75% 11/18
Barbara Walczak, Munster &Madelyn Bachman, Orland Park, IL: 71.35% 11/18
John Killeen & Tricia Killeen, Mishawaka: 70.24% 11/22
Bob Enyeart, Fort Wayne & Pat Kelly, Wolcottville: 73% 12/4
South Bend Monthly Newsletter
Northwest Indiana Newsletter
South Bend's President's Service Award
This year's selection for the South Bend President's Service Award presented a problem which was solved by giving the award to two very deserving members for their services this past historic and difficult year. The recipients are:
Bud Hinckley - We thank Bud for making it possible for us to continue playing our favorite game..  Through his efforts and working with ACBL, he made it possible for us to play "online"and earn masterpoints, by way of BBO.  Part of the money generated from these games came back to the club to help defray our expenses.  His fellow directors, Rich Mao and Bill Searcy, are also included in this award.  Bud was presented with a gasoline card with our heartfelt thanks.
Jo Ann Steigmeyer - During the period when we were not able to "see" our bridge friends, Jo Ann continued to issue the SBBC newsletter with columns dedicated to finding out how our members were.  We learned that our friends were reading, walking, exercising, clearing out unwanted "stuff", and taking online courses. Each edition also contained a source of great book recommendations.  We thank Jo Ann for helping us find out that our bridge friends were doing okay.  The Club presented her with a beautiful bouquet of flowers (shown above).

The South Bend Club was going to have ice cream and hugs before Hugh left to join his family in Indianapolis but he left before they knew it.  So, they send Hugh this hug and wish him the best in his new digs.  They will miss him and hope he will keep in touch.  They will continue to send him their newsletters.  Best wishes, Hugh.
Judy Nelsen Chosen for the Bonahoom Award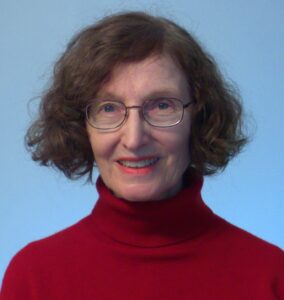 The Mike and Annamarie Bonahoom Award is given annually by the Fort Wayne DBC. The award, named for two FWDBC stalwarts, is in recognition of superior contributions to the Fort Wayne bridge community. For 2021 the unanimous choice of the awards committee is Judy Nelsen. Judy has been a member of the FWDBC for two decades. She usually plays multiple times per week with a variety of partners. She is a Gold Life Master. Being a professional educator, she has taken the lead and routinely conducts a 9-week class every year of beginning or intermediate bridge lessons under the auspices of Purdue-Fort Wayne. For the last several years she has been the chair of-- and the driving force for--the local ACBL Alzheimer's fundraiser. Under her leadership the FWDBC has placed in the top 15 each time, culminating with a ninth-place finish, in terms of funds raised by all ACBL clubs throughout the United States.
Judy is entering her fourth year on the Governing Board for which she has been Secretary since being elected to the Board. Her strengths, besides her bridge acumen, include attention to detail, timely production of Board minutes, and the composing for publication of the monthly e-newsletter and website content. Since joining the Board, Judy has organized and chaired the Welcoming Committee that assists new players to the club. Thank you, Judy, for all your continuing contributions to the Fort Wayne DBC.
Michael Clegg Wins 2021 FW Masterpoint Race

The Fort Wayne Bridge Club reopened to the fully vaccinated in May of this year when the masterpoint started up again. With 113.20 masterpoints earned at the club through November 30, Michael Clegg is the clear winner of their annual
masterpoint race. He is followed by John Kohne (67.53 MP's), Matt Fultz (65.85 MP's), Joe Kohne (62.63 MP's), and Joe Shull (60.41 MP's). Congratulations to all!
FRIENDS THAT WILL BE MISSED
LOLAH MAE BREMER, Fort Wayne
September 6, 1928—September 29, 2021


It is sad to report that Lolah Mae Bremer, 93, died on Wednesday, September 29, 2021.  Lolah played regularly at our bridge club and in local tournaments for many years, achieving the rank of Life Master.  She volunteered for several organizations including, Public-TV, Public Radio, Cancer Services, RSVP, Embassy Theater and Civic Theater.  She enjoyed taking care of her yard including the plants and birds around her home.  Due to declining mobility, she was unable to play at the club recently, but several friends regularly ask about her.  Lolah's surviving son is Michael Bremer of Big Long Lake.
DENNIS "BUD" WAYNE BRUMBAUGH
December 25, 1933 – October 2, 2021


Bud was the club manager for the Cedar Creek Bridge Club for more than a decade. He was always a kind and self-effacing man who made bridge more enjoyable for those around him. His regular and definitely favorite partner (both at the club and at home) was Margie Baumgartel. A fact known only to Margie, Bud's given name was Dennis. Who would have guessed! Bud we will miss you!
JAMES CORDAS, South Bend
July 6, 1928 - November 5, 2021


James Cordas, 93, of South Bend, passed away November 5, 2021 in Memorial Hospital. Jimmy is survived by his great niece, Eleni Andreou of Greece.
Jimmy was born in Volos, Greece to the late Konstantinos Cordas and Athena (Kavvadia) Cordas. He graduated from high school in Greece where he studied economics before leaving for a better education. In America, he attended the Univ. of Kentucky for 2 years on a scholarship. Next. James received a scholarship at the Univ. of Chicago, where he studied political science and earned an MA in socioeconomic planning. He became a member of the Chicago Mercantile Exchange and dealt with the International Monetary Market.
James did a lot of volunteer work, teaching English as a second language through the Chinese American Association and the Korean-American League, and preparing immigrants for their citizenship exam through Citizenship English.  While living in Chicago he led a group of volunteers who helped new citizens to register to vote. In 2000, his group on the North Side of Chicago registered a record number of 1650 new voters.
James became interested in bridge while still a student and found that he could make extra money playing rubber bridge. He met his life partner, Suzanne (a South Bend Bridge Club member who passed away last month) while playing duplicate bridge in Chicago, afterwards moving with her to South Bend.  James achieved the rank of Sapphire Life Master.  Friends at SBBC remember him as an excellent bridge player, a man of great curiosity, a lover of opera, gourmet cooking and politics.
DAVE HOEVEL, Fort Wayne
1938 - 2021


Dave Hoevel, Silver Life Master, FWDBC board member and self-effacing man extraordinaire, passed away on September 6. Besides his bridge acumen, Dave was a jack of all trades and a master of most of them. Publicly, he regularly played 3-4 times a week and served multiple terms on the FWDBC Governing Board. Behind the scenes, he was a substantial benefactor to the club: 40 feet of coat rack constructed and installed; full-sized refrigerator purchased, delivered, and often replenished with beverages; carpet-saving glides, purchased and installed on 120 chairs; 7-foot-tall cabinets donated and delivered; and numerous other material and monetary contributions for the benefit of the club and its members. All of these actions and donated materials done with no fanfare and no expectation of recognition. Plus, he was a humble man who would play with anyone who asked him. True, his favorite partner in the last years was his sister, Mary, but anyone who asked, he tried to fit into his schedule. Dave Hoevel was a quiet gentleman and a gracious human being. We will miss you greatly, David.
KAY LIVELY, Highland
August 21, 1943 - November 5, 2021


Kay Lively, age 78, of Highland, IN, passed away Friday, November 5, 2021. She is survived by her husband Jim, daughter Beth Riga (Stephen) son Mike, granddaughters Lauren Riga, Cadee and Kelsey Lively, brother Frank Berzinis (Barb) and sister Diane Smith (Keith).
Kay was a graduate of Holy Cross School of Nursing and worked for 40 years as a nurse. She was a member of Our Lady of Grace Church, their quilting group, and Faith Stitchers. She enjoyed playing bridge and valued the many friendships she gained in each of these groups.
SARAH ANN MUELLER
August 2, 1938 - September 7, 2021


Sarah hadn't played at the South Bend club for some years, so they were sorry to hear of her passing. She had many partners she played with over the years, and they all remember with fondness that she loved to preempt! There was always joy and laughter at her table. Sarah was a Life Master who also enjoyed singing in various choirs and making an occasional visit to a casino.
She is survived by her husband of 59 years, Dr. Thomas J. Mueller, two daughters, Monica and Ann Marie, three sons Mark, Matthew and James, nine grandchildren and two great grandchildren. She was always so proud to say that all five of her children held at least one degree from the University of Notre Dame.
THEODORE MULLETT
March 21, 1942 - September 8, 2021


It is with much sadness that we have to inform our members that Ted Mullett passed on to the next round of golf Tuesday afternoon surrounded by his family. He was born in Niles, Michigan and graduated from the University of Michigan in 1965 where his analytical mind found sense and purpose in accounting. After graduating, he rose through the ranks of KPMG for 33 years before eventually retiring in 1998, at which time he started consulting with many local businesses and philanthropic organizations.
That same mind searched for challenging opponents at his favorite games, bridge and cribbage. He came to bridge classes but, because of his grasp of the game, was often called upon to explain a convention or a bid to newer players.  He was active at the South Bend Bridge Club and with the MOB (Men Only Bridge) group.
 
He met the yin to his yang, Sue O'Neill in 1966 and the two were soon inseparable. Married in 1967, Sue and Ted were blessed with three cherished children, Anna, Jennifer, and Neill. Also left to cherish his memory are his 7 grandchildren Katelyn, Emily, Molly, Lucy, Owen, Mason, Landon and Ted's sister Linda. Ted loved spending time with his grandchildren and he was known for his generosity, wisdom, dry wit, and zest for life.
VIRGINIA PETERSON, Plymouth
August 18, 1930 - September 28, 2021


Many of us have fond memories of Ginny Peterson and her husband, Ron, playing the Big Club system at the South Bend club - not always easy to counteract.  Both achieved the rank of Ruby Life Master. 
Ginny was born in Lafayette, IN and graduated from Indiana University with a BS degree in education and then taught in the South Bend area.  When she met Ron, it was love at first sight. They were married for 54 years, until his passing in 2018.  They settled in the community of Plymouth and were blessed with six children, who then blessed them with 15 grandchildren and 21 greatgrandchildren.  Their bridge legacy is being carried on by their son, Randy, and daughter, Julie.  And a formidable legacy it is.
SUZANNE WATSON, South Bend
July 3, 1938 - October 22, 2021


Suzanne was born and raised in New York City.  When she was 8 and her brother was 12, her parents announced that she was old enough to make a foursome for party bridge.  Suzanne stated that growing up in New York was awesome.  Every weekend, there were museums, shows, ballets, concerts, ice-skating; qnd a plethora of interesting and fun activities. 
       
Suzanne met her former husband at the University of Wisconsin.  They had two daughters - Diana, who became a mathematician, and Monica, who is a stay-at-home, home-schooling mom living with her husband and five children in Israel.  Suzanne taught school in the inner city in Chicago for thirteen years while raising her daughters. Then she went back to school to become a psychologist and accepted a position at the Madison Center which is what brought her to South Bend.
In addition to bridge, Suzanne enjoyed reading, HD operas, the South Bend Symphony and other concerts, knitting and cross-stitch. She was introduced to duplicate bridge and met Jimmy Cordas while playing.  She and Jimmy have been together for 32 years.  Theirs was a superb bridge AND personal partnership.