John Teshima, Trail Creek & Bill Wendt, LaPorte:  71.40% 9/30
Barbara Graegin, Schererville & Lou Nimnicht, Crown Point: 70.90% 11/16
DENA DAVIS & TERESA NELSON CHOSEN FOR ACBL CHARITY PIN AWARD

Each year the American Contract Bridge League recognizes 2 individuals from each District for their efforts and successes in support of the ACBL's charity campaigns.  The largest and most comprehensive of these charity campaigns is the Longest Day in support of Alzheimer's research.  Each of chosen individuals receives a gold ACBL lapel pin and a letter of appreciation.
This year the Fort Wayne Duplicate Bridge Club is honored to have two of its members selected by District 12 Director Dennis Carman for the prestigious ACBL Charity Pin Award:  Dena Davis (middle) and Teresa Nelson (right).  These two bridge-playing volunteers invested over 100 hours in planning and implementing the highly successful Longest Day events and activities at the Bridge Center. These events and activities resulted in over $18,000 being raised for the benefit of Alzheimer's research.
At the club's October 16 game, Gary Chaney had the pleasure of presenting Dena and Teresa with their pins and letters of appreciation, to thunderous applause from 100 of their bridge-playing friends. Thank you, Dena and Teresa, for your hard work and your unqualified success.
MARCI MEYER AWARDED THE ACBL GOODWILL PIN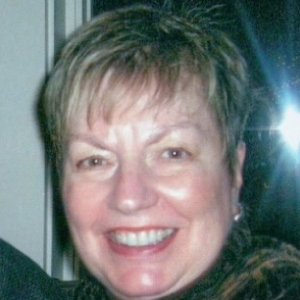 Marci Meyer was appointed by Dennis Carman, District 12 Director and ACBL board member, to a lifetime membership in the prestigious Aileen Osofsky ACBL National Goodwill Committee. This award was made to honor her for her service to the district, specifically in displaying goodwill among fellow bridge players.
The Goodwill creed — "Always disclose, never abuse, don't intimidate, and practice active ethics" — is the most important goodwill message we can strive to share with our fellow bridge players. Everyone, especially in competitive bridge enjoys the company of others who are friendly, caring and forgiving, as we enjoy the game we love.
Marci writes: "I am so very humbled and honored to receive this lifetime membership to the ACBL National Goodwill Committee. My appointment was made by Dennis Carman, District 12 Director to the ACBL Board.  We love visitors at our Michigan City game, and when Terry Bauer came, I was delighted to see him and his partner and just assumed that they had a free Monday afternoon and wanted to play bridge. Terry told me that he had an announcement he wanted to make before we started, and I thought he was going to thank everyone for their participation in the Highland Sectional. Talk about a shock — never in a million years did I dream he was there to make this presentation.  I love promoting bridge and love the friendships that I make at the bridge table. I shall forever treasure my Goodwill pin and will wear it with pride. Thank you District 12 and ACBL.
SOUTH BEND'S CLUB MANAGER RETIRES
South Bend regrets to announce that Patricia Killen has tendered her resignation as Club Manager effective January 2020. She  has earned a well-deserved retirement as she has held that position for 12 years and been involved with the club since its inception in 2005.  Tricia is not just another "pretty" face"  who makes announcements at the beginning of each game.  She has seen to the scheduling of games (an ACBL complicated nightmare), obtaining the sanctions for their games, preparing the masterpoint reports each month, getting the latest info about our members (knee, hip, shoulder replacements and other maladies), making sure get well & sympathy cards are sent out, teaching beginning bridge classes, which has contributed greatly to the stability of their membership, and helping many players become life masters.  She's been known to take a dish to someone who's feeling under the weather and always has had time for each person in the club!  South Bend players appreciate her dedication and will miss her leadership greatly.  Thanks Trish!
NEWEST MEMBERS TO THE SBBC 90+ WALL
The South Bend Bridge Club is proud to add two new inductees into the "90+ Hall of Fame".  Hugh Metzger, October 26, 1929 (pictured left) and John Scheibelhut, October 24, 1929 (pictured right).  Each of the recipients reached 90 years within two days of each other in October.  Their pictures and our other honorees are on the 90+ Wall located near the Directors' Station.  A contribution to Our Lady of the Road has been given in John's name and a contribution to the Jewish Federation in Hugh's name.   Our heartiest congratulations to both of them.
South Bend Monthly Newsletter
Northwest Indiana Newsletter
Michigan City/Long Beach Newsletter